Helping you
navigate tech without
sacrificing your
budget
Contact Sidestreet Technology today to learn more about our comprehensive managed tech services. With frequent reports, network and server management, email encryption, desktop management, and cloud computing, we've got everything you need to stay ahead of the curve.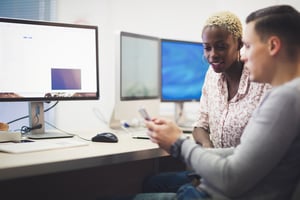 Did you know that small businesses are especially vulnerable to IT challenges? That's why we work closely with you to audit your processes, identify vulnerabilities, and implement security best practices at all points. Our team of experts is dedicated to educating your employees and holding them accountable for following policies and procedures, reducing the risk of costly errors and legal problems.
At Sidestreet Technology, we know that maintaining IT hardware can be a major drain on your resources. That's why we offer virtualization technologies that allow you to maximize your hardware without breaking the bank. We'll handle your business hardware with the utmost efficiency, freeing up your time and capital for more important things.
We're proud to offer a range of world-class IT management solutions that can be tailored to your specific business requirements and budget. We work with you to solve your IT problems in a step-by-step manner, at your pace. Whether you need help desk support, enhanced system security, firewall installation and management, disaster backup and recovery, or any other IT service, we've got you covered.
Downtime can be a major problem for any business, but it can be especially devastating for small businesses. That's why we work hard to decrease, or even eliminate, downtime for your business. Our technology ensures speed and reliability for your key business systems connectivity, so you can stay up and running no matter what.
Either on its own or as a hybrid solution, we deploy the right architecture for your firm's technology needs powered by Amazon Web Services or Oracle Cloud, two of the biggest providers in the world.

We also partner with internet service providers and telephone service providers and negotiate special rates to help you save money on your spend in those areas.
Our backup and disaster recovery systems ensure a rigorous and carefully monitored backup process so that no disaster creates a loss of your data.
Through continual security auditing and threat assessment, as well as prevention and remediation, we make sure your data is safe from unwelcome eyes.
Deploy an expert IT strategy
We establish well-researched and validated IT goals and objectives, then those goals become a critical part of our Service Level Agreement (SLA).